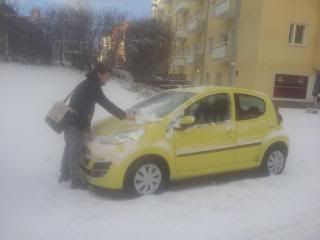 The little yellow car we rented takes us to one of the 4 big cities of Finland: Tampere. The drive to there reminds me of Canada: one long road, a wide view and a lot of trees.
In Tampere we meet Trent, who organized the workshops of that night and shortly after arrival I meet the 17(!) participants. Amongst them many non-improvisers, including a Dutch-German couple that wants to be prepared for dancing at their wedding. So nice!
It is a packed night: we need to rush immediately to the Irish pub, where the 3 of us hit the stage in the basement of the pub for a longform show. Improv is a great thing: we just met and we can already make magic happen.
After the show we get a ride but get pulled over by the Finnish 'Poliisi'. The car was a little too crowded for their taste so after leaving the musician behind we are luckily released. Yaiks!
That night we are staying at Tuure and his girlfriend's and they surprise us the next morning with a traditional oatmeal breakfast. And of course coffee out of Muumi mugs.
Thursday
On Thursday we get a tour around the town by Trent and Riika: having Tai lunch, strolling through a Christmas market, sharing improv stories, climbing up a tower and having the best doughnut I ever tasted.
In the night we are invited to play in yet another bar with yet another improv group. Together with JadaJadaImprov we play a combined shortform and longform show in front of a slightly rowdy bar audience. The next day is Independence Day so the Finns are already in a party mood.
We however need to head back to Helsinki to catch our planes in time the next morning. My incredibly brave driver takes us over dark, slippery roads safe to our last guest family.
The Finland tour is closed with a peaceful Independence Day breakfast with Erika -whom we started our Finland time with- and her parents. At the airport I get a message from my airline that because of stormy weather I can rebook my flight for free and stay up to 6 days longer.
Tempting, very tempting…