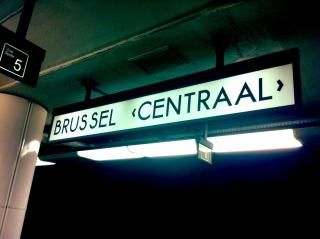 Oh, the audience. How I have come to love those people on the other side of the theatre! Especially after this weekend when the audience in Brussels just blew me away.
Dona Ursu, a sweet and talented improviser originally from Romania, asked me to join her for a duo show. She organizes improv every month in cultural café Le Cercle des Voyageurs, a funky place in the center of Brussels (next to Manneken Pis!).
We performed a new longform, based on an idea from Steffi Petereit from Germany, that we developed to a whole new format. Close Quarters is about two women living next to each other. We wanted to show the lives of these two neighbors, intertwining in small ways or big ways.
In this show we told the story of Sandra the piglet collector who has a stalker and Helena, the single woman finally loosening up. We were supported by the fabulous Phil Lunn who performed his solo show before intermission and supported us as our musician.
The audience was invited to inspire our stories by writing letters that the neighbors get as mail during the play. And inspirational they were! In a way even more beautiful and exciting than we ever thought possible.
For a brief moment during the format development, we considered screening the letters. But we decided quickly that we truly wanted to be surprised. And also: that we would like to trust the audience. Based on this show we concluded they can be.
We received great feedback about the show afterwards from the audience. I feel I can say that without bragging because basically they were complimenting themselves. Telling interesting stories is easy if you get golden suggestions like these.